After a very good breakfast we started today from Tina's Guesthouse about 2 km by minibus from the hostel for free to get to the Middle Tiger Leaping Gorge. We walked most of the 3 h long route with 2 very nice couples, which we had already met yesterday. You took the taxi from Tea horse Guesthouse to Tina's because it was already late and the "28 curves" had it all. Verika climbed a horse during the ascent, quite brave to ride the steep stone stairs on the slope!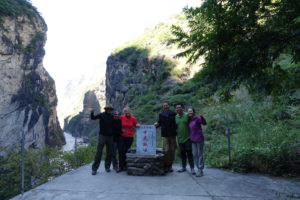 Jo (L.A.), Verika (Hong Kong), Silke, Reiner, Peter (Canada), Sheila (China)
Today's goal was the stone in the raging river, where, according to legend, a tiger escaped its hunter by jumping over the gorge.A suspension bridge leads directly there. It is breathtaking to stand in the middle of the roaring water masses.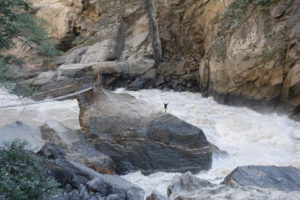 During the hike, in addition to the park entrance of 45 yuan p.p., we also had to pay three times "way toll" of 10 or 15 yuan to the villagers to use the hiking trails or to get to the photo points. In addition, there are several small stalls on the side of the road where you can buy drinks and snacks such as .B walnuts. And as mentioned several "Horses". The bus ride back we booked directly at Tina's (50 Yuan) Last bus 15:30. The journey took a little longer as we had to wait an hour in front of a police station. A passenger was taken from the bus to the police station and then continued. We have not found out why.
Silke