We were picked up today at 7:25 a.m. by bus and after about 50 min bus ride with an excursion steamer 4 hours along the Li-River. About 40 boats with 100 seats each depart in a chain from the pier. During the trip you can see special karst stone formations, with the mountain/hill group Xingping of the 20 Yuan Note probably the most famous! You have a fixed seat in the ship and lunch is included (380 yuan pP. Bus + ship). But the food is the same for everyone in a plastic box and nothing for vegetarians. I just ate the rice with some vegetables. There is also free tea and hot water. Reiner and I were on deck most of the time despite the spray rain.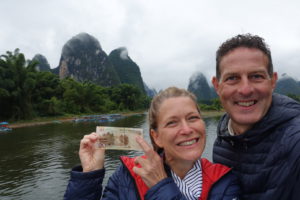 At YangShuo Pier, a Chinese cormorant fisherman had set out with a bamboo boat and his birds. For 10 yuan he let me on board and even sang like a gondolier! The birds are attached to the leg with a string, but can enter the water and swim. They seemed very satisfied.After that we actually wanted to climb up a hill, but decided against it, because the weather was not so great and the way there was totally littered. Instead, we had our feet massaged in a massage parlour for 30 minutes (50 yuan each). We're going "like on clouds" now. Then we enjoyed a delicious pizza at Pizzahut.In the evening we were taken by bus back to Guilin.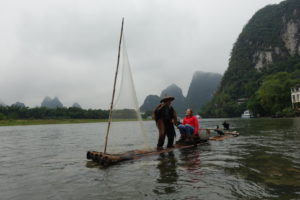 Silke
Ps.: In an 8Yuan/1€ shop Reiner has found a mini-entertainfor our camera today, we have been looking for it intensively since Shangri-La (left there in the monastery! ).