Today we strolled through Guilin in somenic weather. The city is laid out around the karst hills and you can walk nicely along the river and lake shores. We have climbed the moon and sun pagodas (there is also an elevator), which do not look quite like at night during the day. After sunset, a light show is also ignited here. Buildings, stretches of the banks, the Elephant Trunk Mountain and the pagodas are illuminated in a colourful way. We have been at the Vienna Hotel in the 6th Stock on the terrace of the restaurant a little drunk. The view there is really very good. ( Photo )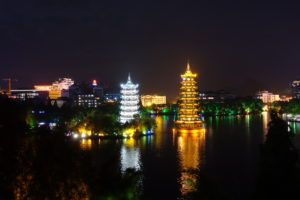 On the way to the taxi we watched for a while a training session for a martial arts choreography. Looked quite good.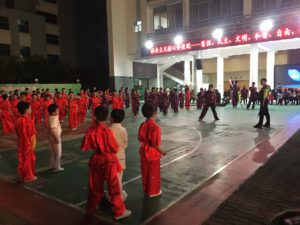 Silke
Ps.: Yesterday Reiner, by the way, took a night shift and edited our page. If you click on a photo now you get to see a better quality because it is linked to the database!