Last night and this morning we had a funny conversation with Franziska & Adrian from Berlin, We had met her a few days ago in HoiAn before Kimmys at the ATM and recommended our Garden Aroma Homestay. Her first accommodation in HoiAn was not so good. After breakfast, they headed for North Vietnam.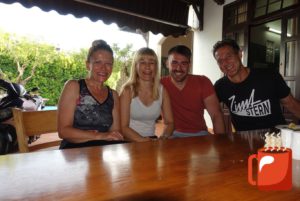 At 10:00 I picked up my second bikini at "Happy".At lunchtime we made ourselves a delicious fruit salad in the Sharing – CoffeeBar (community kitchen) of our homestay. With mango, apple, banana, kiwi and jackfruit. The latter looks like a hedgehog, grows on trees (type of breadfruit), is yellow-green and inside is the soft yellow edible flesh chestnut-shaped arranged around a white fiber strand with well-soluble cores. The jackfruit can weigh 5-20 kg. It spreads unopened a peculiar unpleasant smell, which becomes stronger depending on the degree of maturity and reminds of a stink fruit. Stinkfruit / Dorian looks almost the same as the jackfruit, but has spines. The taste of the jackfruit goes towards sweet banana! If it is not yet as ripe, the pulp can be fried as a meat substitute or prepared like vegetables. The seeds are cooked, roasted (like chestnuts) or processed into flour edible.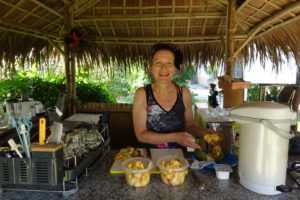 After noon we were on the beach (testing the bikini). In the evening we went to the big restaurant of our hostel "Full Moon". Pretty ambience, a little more chic, you sit in the garden directly on the water with colorful lanterns. The curry was delicious. At the same time with us a busload of about 100 Koreans was served.
Silke