Today we went swimming a little further into the sea. A few restaurants offer beach chairs directly on the water for consumption. Unfortunately, the coconut was warm and did not taste good. Around noon, the fishermen arrived with their round basket boats. The catch was unloaded in styrofoam boxes and the boats were brought ashore. The boats look like big wok's and are controlled by a paddle. Traditionally, the round boats were created here to save taxes. Floating baskets were not considered a fishing boat.
In the evening we were again at Karma Waters Essen and then walked through the night HoiAn. A sea of lanterns, colourful and cheerful.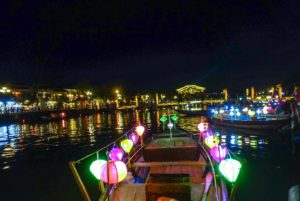 By the way, we ordered a "grave" via app. This is a kind of taxi, but you can also hire a scooter driver or have food delivered. Works very well, we only waited 3-5 minutes at a time, the app shows beforehand how much the trip costs and which driver comes with which license plate. For comparison: with a normal taxi, the same route cost 70000 VDN, with the grave 58000 VDN.
Silke