The night train journey went without any special incidents. Shortly after 6:00 a.m. we marched from the train station towards the city. From about 7:30 a.m. to 12:00 a.m. we sat at HighlandCoffee and booked the next few days on the internet. Then we checked in at the hostel "Willhome" in District 1 and took a shower. The hostel is a bit hidden in the backyard, so it's a little quieter. We have a large room on the third floor with balcony. On a walk through the city we could get a first impression of Saigon. Lots of traffic, dirt and huge construction sites, where a subway is supposed to run. Of course, there are also pretty little oases, cafés and lots of flowers. The BénTh on Market in the centre of HCMC offers a huge swarming of different goods. There are, among other things, clothes, souvenirs, dried fish, fruit, snakes in liquor, scorpions, … .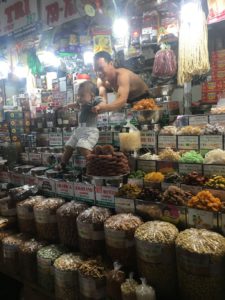 Right next door was a great street food market, where we ate delicious. For Reiner, there was a shrimp and pork-filled bnhXe' (Vietnamese pancake fried in wok). For me, rice rolls grilled in banana leaves and coconut milk sauce, grilled in banana leaves.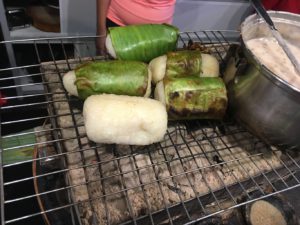 At the end of the day we were still with a "Saigon" (beer) on the roof terrace of our hostel and enjoyed the view.
Silke