Because of the weather and Reiner's foot, we didn't make any trips today! Tropical Storm "Usagi" has reached HCMC. I only went shopping for a short time in the coop and got wet in the process. As the day progresses, the rain has become stronger and stronger.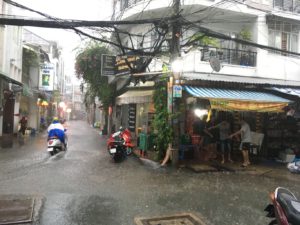 Until 5:30 p.m., the water started to run over the balcony into our apartment. Also in the room above us it ran in. Luckily, the property management still had a dry apartment for us on the other side of the building.We then moved with sack and pack.
Water damage! Reiner knows this way!!?
Silke