In our small kitchen we prepared a breakfast for ourselves. Then today we took a tourist bus tour to the Cu Chi tunnels. We had a bus with 28 passengers and a very funny Vietnamese guide, who explained in English some special details about the war and the tunnel system.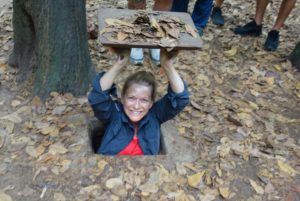 The tunnel entrances were hidden under foliage 25 x40 cm in size and on the tree was a sign of the Vietcong to find it. Most of the approximately 55,000 American soldiers who have died have fallen into deadly traps. These were real torture traps with nailed coconuts and bamboo skewers in a pit where the soldiers were literally skewered.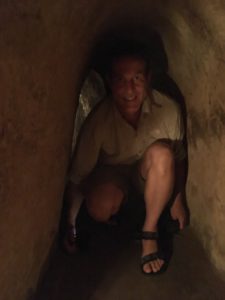 The tunnels themselves measure only about 40 x 60 cm and only the petite Vietnamese could get through there. For the larger Americans, that was too narrow. For the tourists, a 100 m long section of tunnel for climbing through has been extended and illuminated. The tunnels had a ventilation system and were dug in three levels at a depth of 3 m, 6 m and 10 m. A city has emerged underground with larger spaces for living and sleeping. The total length reaches over 200 km and leads to Cambodia. We went down once and it is inconceivable how hot and tight it must have been there with a lot of people. Back in Saigon we ate something for a short time and then Reiner went to the room "cool your foot" and I went to the supermarket for a short time. In the evening we talked a bit with home via Facetime.
Silke