Reiner took the photo this morning before sunrise from the terrace of our bungalow in the Mekong Delta.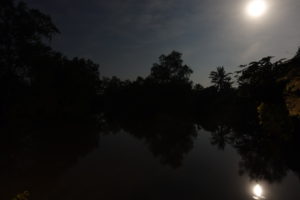 We returned to Ho Chi Min City at 6:00 a.m. by first bus to take part in the Open Factory Tour at Tatonka Plant at 10:00 a.m. It was very interesting to see where and with how many steps my backpack was created.Two employees in the final control are up and down at the tent all day long. Each tent is completely set up before delivery. During the lunch break, all employees receive free food in the canteen. The German plant has been in existence for almost 30 years and currently employs around 800 people in Vietnam at two locations. The brand name used to be "Mountech". Pax-bags and military backpacks are also produced there. The DB backpacks and bags also come from here!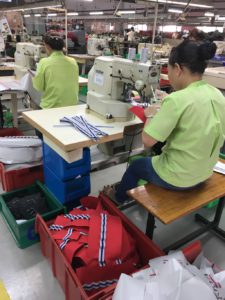 Then we checked in in our new accommodation, a small apartment. On our walk to the food market Reiner unfortunately represented his foot. It is noticeably swollen and hurts. We wait until tomorrow to see if it gets better with cooling and ibuprofen.
Silke