Lake Taupo – Tongariro – Cape Palliser
At breakfast we had a phenomenal view of Lake Taupo.
Then we went on to the Tongariro National Park. There it poured like out of buckets.We decided against the planned hike towards "Schicksalsberg" and went all the way to Cape Palliser to spend our night there. The cities along the way resembled ghost towns, as all shops and even McDonald's had closed.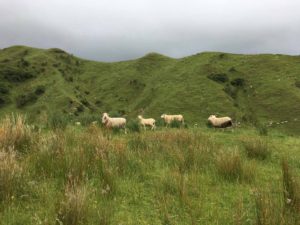 The campsite is a DOC campside, which are not so comfortable but in a great location and there is a toilet. Today there was rice with vegetables as Christmas dinner. At The Carcassonne we still have 48 cards open with relatively equal scores.
Silke