At our DOC campsite – Goldsborough Campsite, there were tame Wekas. They walked between the tents and campers in the early morning and ate bread crumbs out of their hands. After a "Poor Knight" breakfast we started a nice hike through the gold digging area. A few people have actually been looking for gold! The "German Gully Pack Track" and Goff's Track pass a riverbed, through a jungle forest, a mountain and some old gold mines.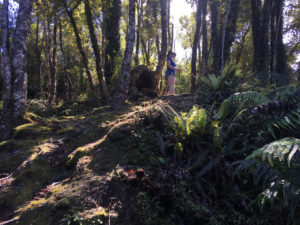 After that we drove a few hours towards Timaru. On the way we drank coffee in a whimsical hotel at the train station in Otira. There, Gollum sat on the roof. There were groomed animals, old machines, a high wheel, artfully painted toilet bowls, and much more to marvel at.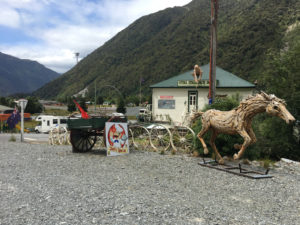 Back on the coast we quickly fried something for dinner and then watched the local little blue penguins go. Unfortunately, very few couples breed here on the beach this summer. We could see a penguin coming in and a young penguin came to the barrier rope. I was horrified at how little respect some people have for the needs of small wildlife. There were two guides (nice older ladies) who pay attention to the animals and ask people to be quiet, keep their distance and take pictures without flashing, but some don't care at all. The little penguin has hurt us quite a bit. Perhaps it would be better if even more large-scale closures were to be made. Our current campsite is again a Top 10 Holiday Park.
Silke