Today we went to Akaroa after a nice breakfast. There was a short tank and shopping top in Christchurch.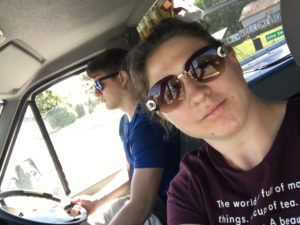 A beautiful summer day. In the Akaroa bay we went swimming in the sea. Janik and Reiner made Salto from the bathing island, Melina and I tested the swimming noodle.
We sleep on a campervan square right next to the harbour. There was spaghetti with cheese and tomato sauce and colorful salad. Today Melina won at the Carcassonne.
Silke