This morning we did a wonderful Wildlife – Charter Cruise in Akaroa. We were absolutely thrilled and experienced penguins, albatrosses and dolphins in the wild. John, the guide, and his son Ollie have snipped us through the waves with their red sports boat and 300 hp Yamaha engine and showed us a lot. We have also learned a lot about the history of the country. The highlight of our tour came when a group of dolphins swam right next to our boat.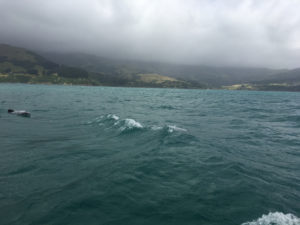 Akaroa is really worth a trip.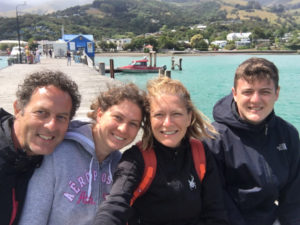 In the afternoon we had to give up our campervan, which accompanied us about 4000 km through the country. We have received a refund for the 2 days repair. Since the office closes at 5 PM, but we had assumed that we had 5 o'clock delivery time, we had to pack our things in a hurry and off the yard. Didn't fit everything right away into the small Toyota that we rented in the meantime. So Janik and I drove to the hostel and cleared the car, and then Made up for Reiner and Melina. Today we are "punched in" again and sleep in the Jailhouse Accommodation in Christchurch. After a pizza at Domino's, we sat together a bit in the foyer. By the way, the police came "in real" and arrested a rioter who had previously loudly threatened someone with a gun.
Silke