In Kaiteriteri we made packed lunches in the morning and then went to the beach. A Wilsons ferry took us to Rotoura. We have checked in the luggage separately. The boat trip was very nice. In bright sunshine we passed interesting rocks, as well as some seals. The hike led mostly along the coast, but also through forest sections and over bridges and rocks! The sea shone from rust-red, over emerald green, to sky and dark blue.
Many waterfowl and forest birds crossed our path. After about 12 km we arrived at our overnight destination, the Bark-bay. Reiner still took the backpack with the tent from Medlands Beach, 250m away.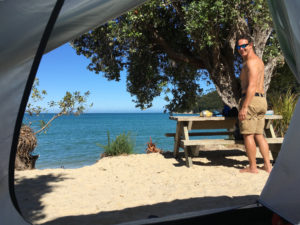 We were swimming in the sea and then we enjoyed our lunchbox dinner.
Silke