By the way, we went back in time and experienced 1/23/2019 minus one hour twice. Weather Today: 80 degrees Fahrenheit = 26.6 degrees Celsius. We drove a bit along the southern tip of the island after breakfast. We only took a quick look at Kailua Bay Beach. – beautiful! Then we drove to the Hanauma Bay Underwater Park on the recommendation of Amanda (hostess AirBB). She also kindly lent us her snorkeling gear and a beach towel.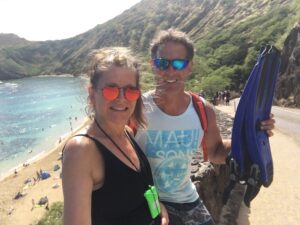 It is a great bay with coral reef. Well organized, with 3 lifeguard houses, toilet and kiosk. Costs USD 7.50 pP entrance fee and very nicely laid out. Each visitor first watches a film on how to behave in the reef, for the protection of nature and own safety. Then it goes down a road and into the sea. It is like a huge aquarium only not fenced. We saw whales in front of the bay. I had to get used to diving goggles and fins first, but then it was really great. The corals in about 1-3 m depth with lots of colorful fish.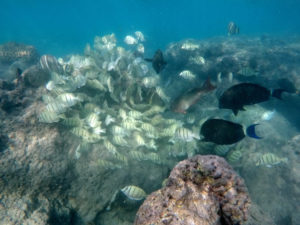 Whales and fish in the sea and on the beach birds and mongoose (mongoose) entertained us. Totally cute, look like meerkats. Our backpacks have not yet reappeared. Therefore we went shopping again. At "Ross – Dress for less" and at "Walmart".
Silke