We had fried egg and cereal for breakfast. Freshly strengthened we drove to Manoa. The track to the waterfall only took about an hour, but was a little slippery in places. Scenes from Jurassic World were filmed here and you can really imagine meeting a dinosaur there. Rainforest with giant ferns and huge trees with vines.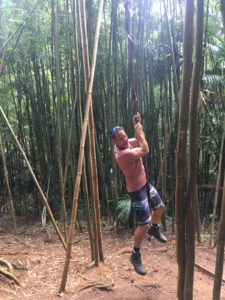 Pink flowers, birds chirping and mountains shrouded in mist. Just "Jurassic Park."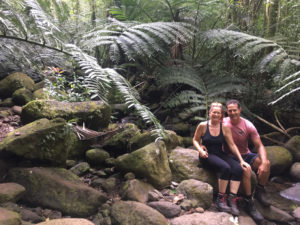 The waterfall itself was very nice, but closed off around the pool. You could not jump in! Then we wanted to check out a few more beaches. Electric Beach is known for having turtles swimming around there often. Today, however, it was a bit rainy from the afternoon on and there were many surfers in the high waves. Also megainteressant to watch them surfing. In between we got a call from Hawaiian Airlines that our luggage arrived in Honolulu. We went to the airport to pick it up again super happy. Now I just have to submit the receipts for our purchases for reimbursement. For dinner we made penne with salad.
Silke