We left before breakfast today to catch the sunrise and possibly dolphins and sea turtles at Makua Beach, west coast. For me the pull of the surf was too strong, so I quickly got out of the water. Reiner ventured further out and swam with a turtle for a long time!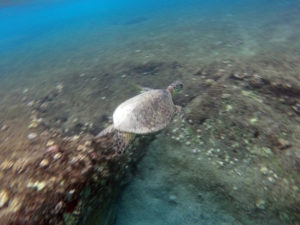 Although overnight camping is prohibited, many mostly young people sleep there partly in tents and hammocks 5-6 per tree.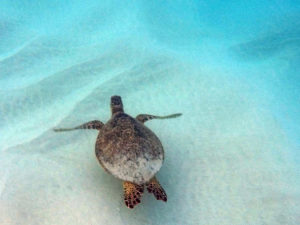 After snorkeling, we first had breakfast at Subways and then headed back towards Honolulu to Ko Olina. There are four man-made lagoons there. Very romantic, very "Disney Land". After that we went to Pearl Harbor. You can visit a part of the military area that was heavily bombed in 1941 during WW2. Sunk ships can still be seen there. There are guided tours, a museum and shuttle buses – and ferries to the wrecks. We just walked along the harbor once and read through the plaques. After Pearl Harbor, we were at Waikiki – Beach.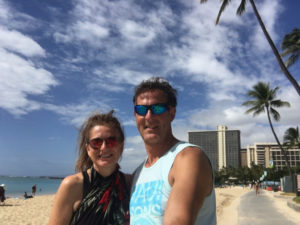 There is not such a strong surf there and so I could snorkel again. We saw lots of colorful fish in a reef just offshore. The beach is beautiful, but also full of people. Parking cost for 1.5 h 12 USD. After a long snorkel we let ourselves dry and went on to the east coast to Chinaman s Hat. This is a small uninhabited island, about 500m off Oahu, which looks like a Chinese hat. A little further up the coast there is the Kualoa Ranch. You can go horseback riding, take a tour to Jurassic Park locations, biking or high ropes course, … . Unfortunately we didn't have enough time for that. To end the day, we shared a Ben + Jerry's ice cream and cooked pasta again in our AirB+B, because sauce was over. There was even time to go to Carcassonne. I defended my lead.
Silke