Directly opposite our accommodation is the residence of the former president Rafael Nunez (1825-1894) which can be visited as a museum. It is very beautiful and very imposing. The house is built in Caribbean style, over 2 floors, with a wooden balcony all around and a large pavilion in the middle. It certainly lived quite pleasantly in it. After that we had a look at the beach. Small bays with shade roofs for rent ( 10-15000 COP/day) beautiful fine sand, on the roadside somewhat littered. Probably because it was Sunday, it was pretty crowded . Then we walked along the city wall to the port. We booked tickets for the crossing to Isla Grande / Islas del Rosari. We stay there for 3 nights. It could be that the internet connection is not so exhilarating.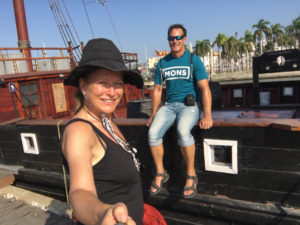 Back in the old town we enjoyed the ambiance, had a drink and bought mosquito repellent.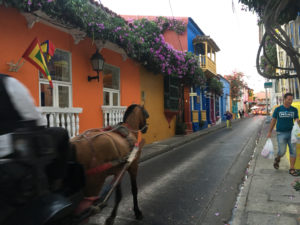 The colorful alleys are really wonderful. In the evening we had pizza from the pizza bakery in front of our apartment block. We had a long and very nice chat with Martha.
Silke