After 2 nights of fever I felt better today. In the late morning we went to the free sandy beach 15 min away. At the other beaches you have to pay to use them. The beach and the water were wonderful and also quite clean. There was a cocktail bar where I drank an agua de coco – coconut water from the coconut.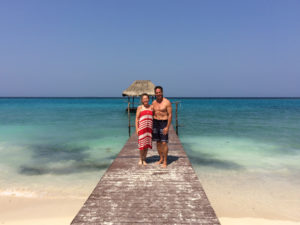 Although we were only there for one – two hours , I got sunburned away. Since it is very windy, you don't notice it so quickly. For the evening meal we got fresh fruit for me. The food in our hotel is a paradise for fish and lobster lovers. Unfortunately not so for vegetarians. But the pineapple, banana and mango was perfectly adequate. After dinner Reiner and I walked again on our own to the lagoon. 30 minutes there and back with flashlight through the mangrove forest. The bathing island was also very dark and wet. We were there all alone. The glow of the small plankton particles was magical. This time Reiner tried to take pictures, but unfortunately the pictures all turned black. It was still great.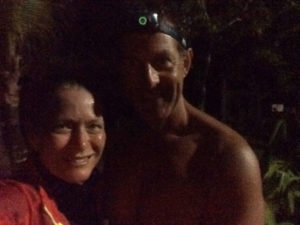 Fortunately, we found our way back to our eco-hotel.
Silke