Isla Grande is very quiet. There are no motor vehicles or the like. Good for relaxing.
We started our return trip to Cartagena today. Booked was 12:00 pickup. At about 10:00 we got a call that the boat arrives already at 11:00. Finally it was there at 13:00. In the meantime the wind had freshened up quite a bit with corresponding swell. To our surprise, the boat moored for a 1.5 hour break on the crowded beach of Playa Blanca. Everyone had to disembark. I used the break for a snorkel to the reef. There was nothing special to see there.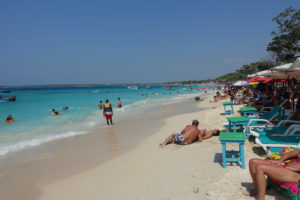 There is no jetty on the beach, so boarding was like boarding the boat. Everyone tried to get on the bobbled boat. These (speed)boats really drive adventurously. One falls in free fall into a wave trough and immediately gets more blows from the short waves. Finally we arrived in Cartagena, sorted our partly wet luggage and went to our accommodation.
Silke disappeared into bed immediately after dinner.
Reiner