This morning, on "our" coffee farm I saw a toucan from the shower. After breakfast we hiked down the mountain with our luggage. From Minca, a jeep took us a good hour's drive to the other side of the slope to our lodging today, the "Casa Elemento". We sleep in a room in the finca, a bit away from the hustle and bustle. The special thing about this hostel are the huge hammocks on the mountain. "Infinity hammocks" so to speak.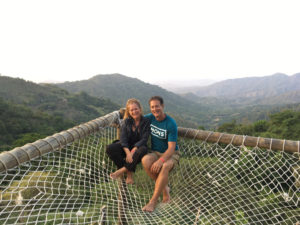 The house is fully booked. We met a lot of nice people. E.g. a couple from Miami, Frank celebrates his 36th birthday today. And an English couple. They are traveling by sailboat and are waiting for papers, because they entered by sea. Besides, the weather has to be right to continue the journey. The last days were quite stormy on the sea. The two had actually booked our room, but now have to sleep in the tree house. For dinner we had vegetarian curry with rice. From 20:30 to 22:00 was happy hour at the bar. Now it's midnight and the music has just been turned off. There you can hear again only the chirping of the crickets.
Silke
ps.:there are a lot of sandflies here! We are already fully stung!