Before sunrise today we went to the neighboring farm "Mundo Nuevo", 15 minutes away, to go among the ornithologists. We went on a 2 hour bird identification tour. It was great. We learned a lot about local bird species and experienced hummingbirds, parrots, toucans and many colorful songbirds.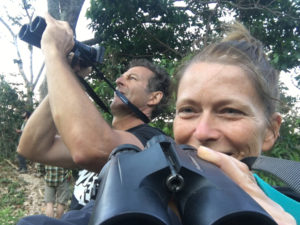 After breakfast, we had corn pancakes with scrambled eggs, we started for a 11 km hike. The destination was the waterfall "Pozo Azul" where we bathed.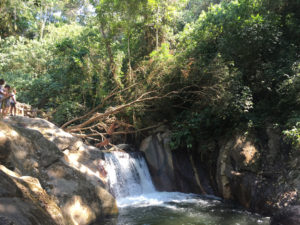 We took a short break in a restaurant outside Minca, with great views and good music. Totally dusty from the dirt road and sweaty from Ü 30 degrees and the climbs we were in the evening first ripe for the shower. Before there was still a liter of Agua and the sunset on the observation deck. No problem to wash the hair with cold water. Until now there were in Colombia in all accommodations pure cold water showers. As said at the temperatures OK. To the Cena there was mushroom cream soup, corn pancakes and vegetable potato all sorts. Our Colombian hostess is a good cook. With crickets chirping on the terrace Reiner and I have the evening with a glass of wine and a round of Carcassonne fade out.
Silke