The bus to Bolivia La Paz left this morning at 6:45. The border crossing was in Kasani. We walked from the Peruvian border post to the Bolivian one. Just past the border in Copacabana we had to change buses and wait two hours for a smaller one.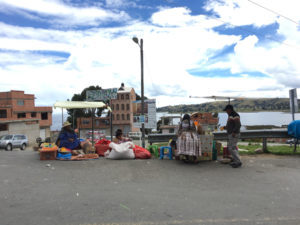 We passed the time with a game of Carcassonne. Reiner won twice. A few kilometers further, everyone had to get off the bus again. We were supposed to cross Lake Titicaca by ferry. The bus crossed on an extra raft. Each passenger had to buy a ticket for 2 Bolivianos. But since we hadn't changed any currency yet and the ticket seller didn't want to take USD, we stood there with our USD and couldn't get on the boat! A Japanese tourist spontaneously gave us the 4 BOL (0.50 EUR), so the trip could continue. While driving through the Bolivian capital we saw a carnival procession on the other side of the street.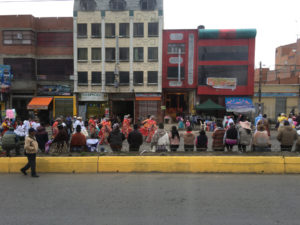 So we arrived at 18:00 in La Paz bus terminal. Actually we should be there already at 15:00. Our hostel is just around the corner from the bus terminal. We did not find a restaurant. There was noodle soup for Reiner and banana and Pringels for me.
Silke