Today we went from Cusco to Puno with a very comfortable double-decker coach of the company "Cruz del Sol". There was even a cheese roll and tea included. Puno is located directly on Lake Titicaca, the largest freshwater lake in South America, at 3812 meters above sea level. Right after we checked in at the hotel "Maya Inn" at 3:45pm, we went to the port. There we took a 2 hour trip to the floating islands of the Urus in Lake Titicaca. Several families live there on islands tied together from totora reeds. The traditional boats are also made of reeds and resemble gondolas only as catamarans with cat or puma heads.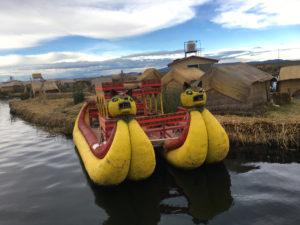 We were driven to the main island in such a "Peru Mercedes". The houses are also made of reeds, clay stoves are fired with dried reed stalks and stand on stones. Day tourists are welcomed with pleasure and the inhabitants tell ( in Spanish ) about the history and construction of their village.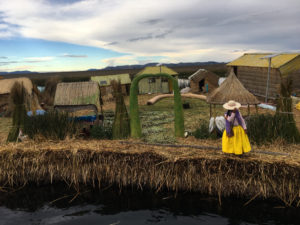 There is even a marketplace of sorts with a grocery store, several souvenir stands and a restaurant. Back on land, we bought avocados, tomatoes, carrots and mango at the market and made a raw vegetable salad at the hotel.
Silke