We got up at 4:30am to catch the 5:30am bus because we had booked a ticket today to Machu Picchu including Montana Machu Picchu with admission at 7:00am. The morning was very rainy and on our climb (lots of stairs) we saw next to nothing of Machu Picchu town.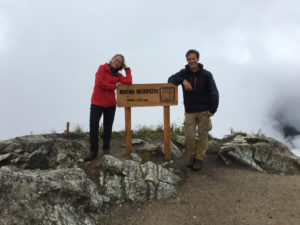 We were also more or less in a cloud at the top. Around noon it cleared up a little , and we could already see Machu Picchu from above during the descent. We "bribed" a llama with a cracker and it looked with into our camera.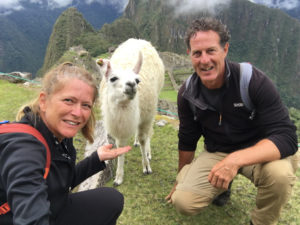 Around 1:00 we took the bus back downhill to Aguas Calientes and picked up our luggage at the hotel. Train ride to Ollantaytambo and from there in the Collectivo to Cusco. Unfortunately, we were not dropped off at the hotel as promised, but had to walk another 3 blocks uphill. On the way we bought avocado, pineapple, cheese and wine for a nice dinner in our room.
Silke