In the bus we were served cake, jam, crackers and coffee for breakfast. The seats were comfortable and clean but we still didn't sleep very well.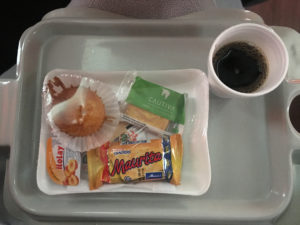 Around 12:00 we reached our destination Puerta Iguazu 3 h late. Our apartment is located directly opposite the bus terminal. In the afternoon we made only a small round through the town and walked to the Mirador de tres fronteras. On a small excursion boat we made a mini tour 1h. Aon the Rio Iguazu we drove under the Puente International Tancredo Neves ( Fraternity Bridge) along, which connects Argentina with Brazil, and are then to the Rio Patana, on whose opposite bank Paraguay with the Puerto Tres Fronteras lies. A few small waterfalls could be seen on the shore and many anglers..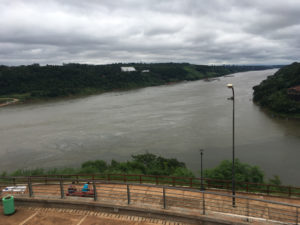 Then we walked to the Argentine viewpoint. After the walk with boat tour we did some shopping and then cooked us a spinach pan!
Silke