At 9:20 am we took the bus to the national park. With a lot of fun and quite wet today started with the "Great Adventure" tour, 1,5 h Jungle (truck) jeep and speedboat to (through) the waterfall(s). You get an extra drybag and it is recommended to put everything that should stay dry in it. And you really get soaking wet! The rain capes didn't help much! It was mega fun and you see the water masses from a completely different perspective.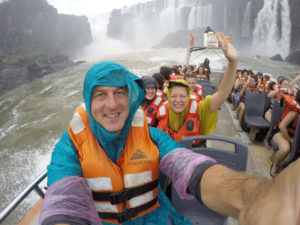 Back on land, we observed two crocodiles on the shore with butterflies buzzing around them. The one crocodile was apparently annoyed and went into the water. Swimming in the Iguazu is not really recommended! We then went with Olivia to the Hotel Melia, took a break there and had a cocktail at the pool. Afterwards we took the small train to the Garganta station to walk 1100m over iron bridges to the Garganta del Diabolo. There were hundreds of butterflies at the train station, one thought Reiner's t-shirt was great.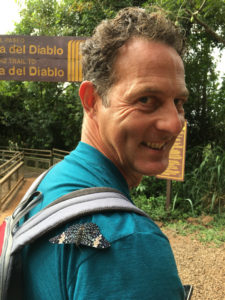 The Garganta del Diabolo is a huge semicircular waterfall up to 80 meters high that flows into a narrow gorge. It looks as if the water rushes into a gigantic hole. Great when the sun came out and painted rainbows on the spectacle.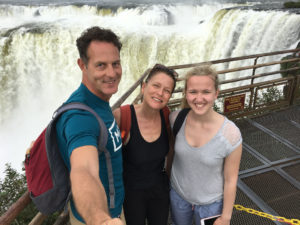 Today was another day of memorable moments and at least 100 "Pictures of the Day!" Then it was time to say goodbye to Olivia. We wish you another great stay in Argentina and Colombia and a safe trip home to Bremen! We went back to our apartment by bus and made dinner.
( Park entrance fee today 350 ARS pP, Great Adventure Tour 2000 ARS pP, Bus 320 ARS pP)
Silke