In Brazil the public bus 120 drove us in about 1h to the national park entrance there. We found the Brazilian side of the Iguazu Falls almost more spectacular than the Argentine side! You can practically walk into the rainbow on a bridge! (Pretty humid!)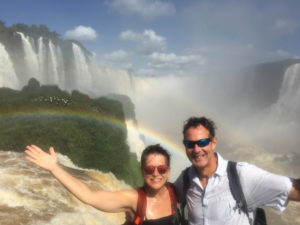 From the park entrance, you are taken to the viewpoints in large panoramic buses. There are several bus stops on the approx. 10 km long road and against surcharge one could rent bicycles and canoes, make a Hikingtour and also speedboat tours (somewhat more expensive than in Argentina but better? smaller boats) are available. A good 1 km trail to the water starts at the terminus. Several photo points offer great views. On the way back we wanted to walk in the side paths, but this is not allowed without an upgrade. Even so we saw a lot of new and beautiful things. The butterflies let themselves be taken on the hand today.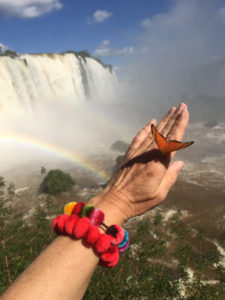 And on a plain, a small group of capybaras (large guinea pigs) were grazing.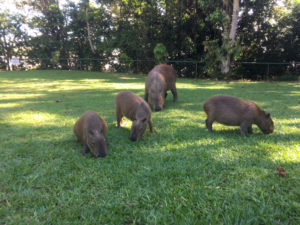 In the evening we went for Italian food at "Folkz Pizzas +Saladas". Very fresh ingredients, front cooking similar to Subways only with pizza and salad, very tasty! In addition, freshly tapped beer (Brahma), but in plastic cups. ( Bus one way 3,75 Real pP., National Park entrance 70,00 Real pP.)
Silke