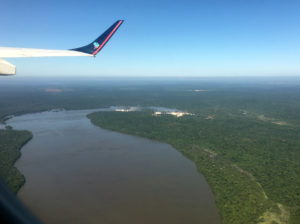 We started today with a not so good feeling, byTaxi, to the airport, because the "Online Check In" had not worked last night. The reason was a payment for our luggage, which we could not complete due to a non-existent Brazilian tax number. Also a No. created over a F.k.-generator did not lead to success. But finally it was no problem to check in at the airport and to pay the luggage on the spot (same price as on the internet). The flight with "Azul" went via Sao Paulo to Rio de Janeiro.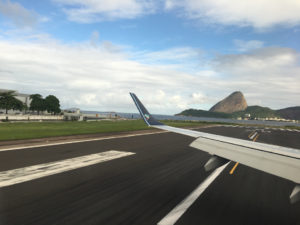 We had quickly booked a hotel at Copacabana in Rio for one night between flights in Sao Paulo. Sugarloaf Mountain and the statue of Christ greeted us at 27 degrees and sunshine. Yesterday, a state of emergency was declared here. Several people died after heavy flooding and landslides.
After arriving at the hotel, we asked the receptionist about the situation. He just said that this happens every year. Don't worry.
After a walk in the district, looking for something "edible", we also had the impression that everything is running normally.
In any case, the next few days should be nice weather.
Reiner