On Easter Sunday we had breakfast at the Silonque Bush Estate in Phalaborwa and then drove north to the Punda Maria Rest Camp. The drive took a little longer, because on some roads a few holes ( pot holes) forced us to drive slowly. There are also cows and donkeys running along the road.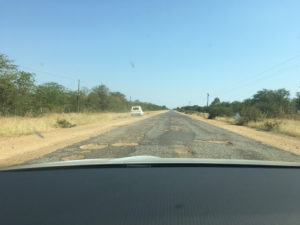 Un 12:30 we reached the gate and then leisurely drove to the camp. From the car we could again spot giraffes, zebras and impalas.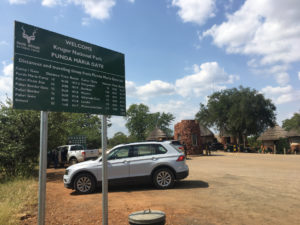 After a little wait, we met our guide Christopher and his assistant Fiona and our 4 fellow travelers at the camp. Two couples, Eric and Giesela from South Africa and Doro and Pablo from Basel are coming with us. Our cars stay in Punda Maria. We still had the opportunity to buy extra drinks like wine, coke or beer in the store. Then we have been driven with an open jeep to Camp Nyalaland to a Wilderness Trail, 4 days – 3 nights. .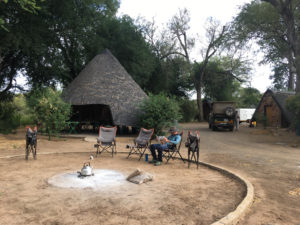 The camp consists of four cabins, each with two single beds, a communal hut, a fire pit, a wash house, a kitchen, a supply store, a ranger's hut and a fence, which, however, is more to keep the visitors in the camp than the animals out. A part of the fence is currently collapsed because an elephant wanted to look after the right. After the delicious warm dinner we sat together at the fire and got information about the schedule of the next days. Among other things: – If we see any eyes on the way to the outhouse, we are to turn back to the safe hut and call Christoffer for help. – During the "Walks" we must always walk united behind the two armed rangers and act on instructions in case of danger. – It is advisable to carry a flashlight in the dark and wear closed shoes to avoid accidentally stepping on snakes or scorpions. All precautions of course!!!
Silke