The morning started before sunrise. We each got a wash bowl placed in front of the cabin and after a quick coffee we were off into the "Wilderness!". By jeep into the bush and then on foot a few miles through the countryside. Fiona and Christopher always take a short storytelling break when interesting things appear along the way, such as elephant graveyards, tiger tortoise shells, dinosaur fossils, … turn up.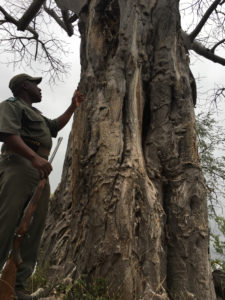 We learned a lot about nature and the people who used to live here. There are centuries old holes carved into the rocks for playing fields with stones! Lunch break was high up on a small mountain in the ruins of the "castle" of the former cruel, African king Makahani. The view was fantastic. A Black Eagle nest on the cliff side used to be used to punish disgraced men by lowering them down on a rope and only bringing them back up if the person could steal the eagles' chicks from the nest. Otherwise, the rope was cut! We also learned a lot about the beautiful ancient Baoab trees. Among other things, containers are made from the bark, they serve as food for the animals and you can also make medicine with it. In our camp is a huge Baoabtree. After we were back in camp, there was lunch and then siesta. At 16:00 we left again, with the jeep and a short walk to a hill where we admired the sunset with a can of beer.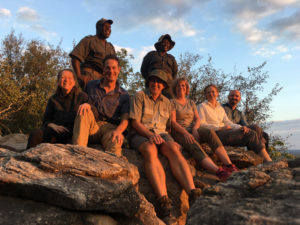 Afterwards Winston, the camp cook, spoiled us with a good dinner and we had a nice chat with the others. By the way, we also saw hippos, zebras, impalas, nyalas, buffalos and many birds and small animals.
Silke