Mega exhausting! From 7:00 am with time pressure on my neck climbed over rock walls and everything hurt! At km 6 I wanted to turn around. (There are Escape Routes, but there you have to walk 3-4 km through the bush to have internet connection or phone). So grit your teeth and get through! Time pressure because you have to cross the Bloukrans River at Km 10 1/2 h after low tide. (today 13:57 o'clock) There the water is "only" waist high. Otherwise it is very dangerous because the surf can wash you up against the sharp cliffs! Sim and his young men were waiting for us there, because the hikers are supposed to help each other if necessary. The guys kindly carried my backpack across. (Reiner would have walked twice otherwise).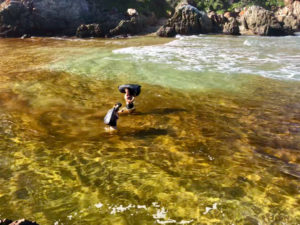 On the other side we went steeply up the rock walls and 3.8 km further to André 's Hut!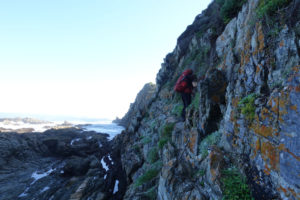 The last few steps I used my walking sticks like crutches!!! (-; We didn't feel like having a campfire today and used the gas stove to boil water for noodle soup. The little Jägermeister (with hot water and sugar) revived us a bit. The open-air shower here is especially nice, with a great view of the beach and sunset.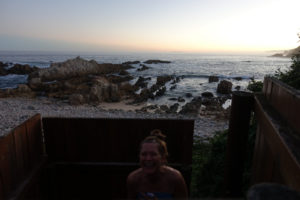 In the cottage, we only just noticed the candle holders on the walls, as there was still a candle in them. Better than tea lights! Of course, the hiking trail was also beautiful. Fabulous viewpoints and especially many unusual flowers. And "our" low tide was really good too. Some hikers have to start at 4 or 5 to be at Bloukrans River for low tide! And the weather was also just right!
Silke