Today we explored the Cape Peninsula and let the wind blow around our noses. We drove to the Cape of good Hope and did two small trails to the lighthouse and the Cape of good Hope.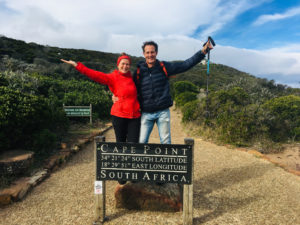 Huge rocks that rise to the 200 m from the sea. The paths are very well made and easy to walk. From the parking lot there is even a cable car up to the lighthouse (Who wants – extra ticket). Many nationalities cavort here and enjoy the great view. A sign shows 9635 km to Amsterdam. We had quite nice weather at 16 degrees, fresh wind and good visibility. Unfortunately there were no whales or dolphins in the water. The water itself is crystal clear and has a wonderful turquoise blue on the coast. Dias Beach is fantastically located between Cape Point and the Cape of good Hope. You can climb down a staircase. We hiked about 4 hours from viewpoint to viewpoint. We talked with two nice women from Kiel at the lighthouse for a while. Esther lives and works for 3 years in South Africa.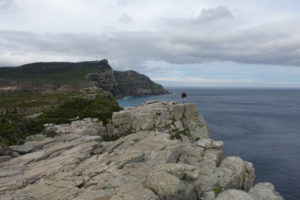 Back at the apartment, we had pasta again. After that we checked our photo backup. All photos from the phone are in a cloud/or uploaded to Amazon Photos. This is very reassuring in case we ever lose the phone, or it breaks. By the way, the entrance fee to the park is R303 pP (without South African Wild Card). Opening hours Apr – Sep 7:00 – 17:00.
Silke