In bright sunshine with fleecy clouds we are "on the road" again. An ostrich said goodbye to us.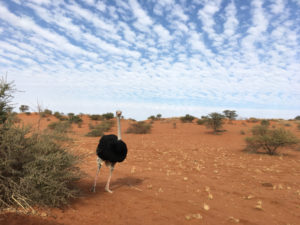 The roads go dead straight through sand and dust and far and wide not a house in sight. Fascinating how many different colors sand can have. At a dam we had to drive briefly through water. About 30 percent of our today's 430 km long route led over unpaved roads. Our Toyota Hilux 4×4 drives but very quiet and safe.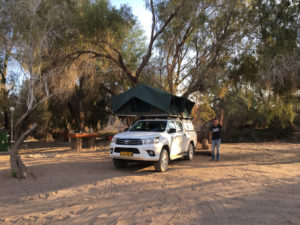 At our destination, a camp near Keetmanshoop, in the Richtersveld Transfrontier National Park, we then unfolded our roof tent for the first time. Very comfortable! The second roof tent will stay packed soon. The car is actually designed for 4 people. Finally we had a nice barbecue.
Silke