At 6:30 am we spontaneously decided to drive to the Fish River Canyon for sunrise. Some neighbor campers had already left and so we quickly rolled up everything, did a "cat wash" and drove off. It was definitely worth it.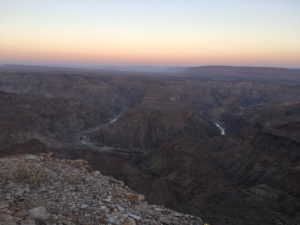 A short walk led from the main overlook to the entry point for the multi-day hiking trail. A few groups set out on the trail. We drove our Toyota to the cliff edge and had a great breakfast with beautiful scenery. A bee came out of nowhere. She liked our jam. We talked to some tourists, about 80 percent of whom were German. At the Roadhouse, a nice rest stop with gas station, very imaginative interior (vintage cars, license plates, …) we stopped briefly and sent a WhatsApp home. Our way led us further towards the coast. Past different desert landscapes. We saw giraffes and antelopes. But also wild horses grazed at the roadside. Whereby one came curiously to us and was probably not so "wild".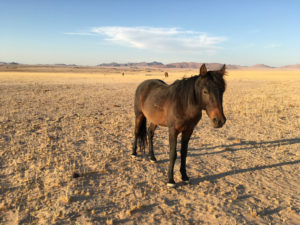 Unfortunately, there is not much fresh grass growing there. The landscape always looks fascinating. Sand dunes, termite piles, rocks, isolated trees ( including quiver trees) and dry shrubs. Partly the horizon "flickers" from the dust and the sun. Shortly after six we reached our today's destination Lüderitz – Camp Shark Island. We sat down to eat (noodle soup with schakalaka) in the car, because the wind is quite fresh. Day 25 degrees, night 13 degrees, sunrise 7:37, sunset 18:13.
( Achim day 19 degrees, night 13 degrees, sunrise 5:05, sunset 21:34)
Silke