On Shark Island in Lüderitz we woke up today with a sunrise from the window of our roof tent. After breakfast we drove to the ghost town of Kolmanskop, a former German diamond mining town. In places the sand is knee-deep in the houses, which have been abandoned since 1956, but are otherwise still in surprisingly good "shape". A museum has been set up in the main building, an inn with a bowling alley. There is a former hospital, a bakery, an ice factory ( Linde 's ice machines), and the railroad ran as far as Lüderitz.
After that, we spent some time looking at the inhabited and very pretty port town of Lüderitz. If it weren't for the sand and palm trees, it could be a place in Germany. There is a Vogelsangstrasse, a Bergstrasse, a Kirchweg, … . The houses are called Haus Grünewald, Haus Eberlanz, zur Waterkant, … . From the rock church we have seen dolphins in the sea. Without further ado we jumped into the car and drove there. They were cavorting just off the coast. Reiner took the opportunity and went swimming to them. Several times a dolphin passed him by and when Reiner "clapped" in the water, the dolphins responded with a clap.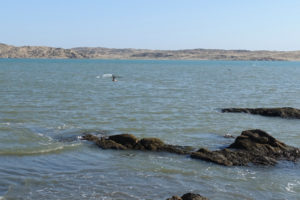 Then we drove to Diaz Point, a headland with a lighthouse about 20 km from Lüderitz. There was also an abandoned camping site there. On the way we passed a shipwreck and many flamingos. Finally we drove about 2 h inland to "Aus", where we camped today on a very comfortable campsite. Every place has its own bathroom! We cooked a vegetable stew and had a nice evening.
Silke