his morning we found out that the left rear tire has a flat.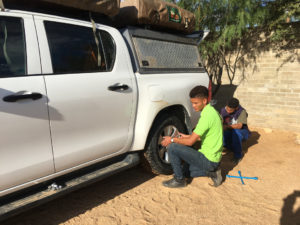 Fortunately, right next to our lodging was a car repair shop that, after checking back with Bidvest, our car rental, by phone, put on a new tire. After that we continued, 430 km, mostly off road, to Sossusvlei, Sossus Oasis Camp. We saw great trees and desert landscapes.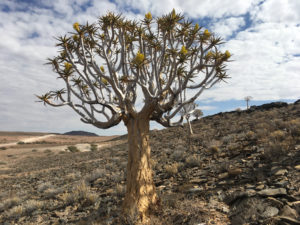 Some trees house giant bird nests, but they are not home to a giant bird but a flock of small birds.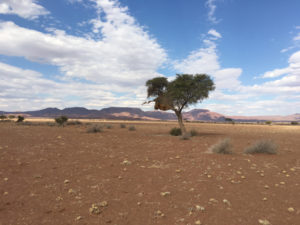 Goat herders herded their flocks across the road. We could see a sandstorm in the distance. Jackals were hunting across the road. An oryx antelope also jumped over the chain link fence. In the Namib Rand Nature Reserve there were some dead animals lying on the fence. After we set up our tent, we cooked ourselves a rice dish.
Silke