At sunrise we drove into the Namib-Naukluft National Park. At the first view point we already got a nice impression of the desert landscape and especially the huge sand dunes. A hot air balloon could be seen in the sky. Then we walked up to Dune 45. A wonderful view, great colors and contrasts. Since there were also several tour buses at the parking lot, people first ran like ants in a row up the dune crest. That has then but "cleared", the further you got away from the parking lot. Once around the dune, we had real breakfast appetite and built our table. There was fried egg with (German) brown bread. A small starling kept us company. On we went to Deadvley, a dried up lake with whimsical tree skeletons.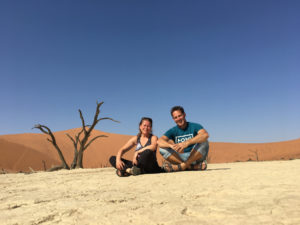 Here we hiked the "Big Daddy Dune" trail. A loop trail that goes through deadvley up a big dune (Approx 4.5 km).
Also the car ride there was adventurous, because it went through deep sand and over dunes. There the 4×4 proved itself well and fortunately everything remained intact.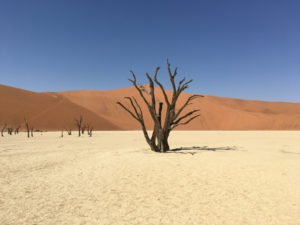 On the way back we drove a young German couple (Fine and Henning from Munich) to their camper. They preferred not to do the off-road route through the sand and walked the additional 3.5 km. Since the sand has become hot in the meantime and their water was already all up on the dune, we first refilled their bottle, cleared our back seat and invited them. A short side trip we drove still to the Sesriem Canyon. Then we left the park and went about 50 km north to the beautiful campsite Weltevrede (again with its own bathroom). For dinner we had noodles in cheese sauce and salad at sunset.
Silke