Today a peacock, a rooster and two alpacas kept us company during breakfast. Then we left in the direction of the Caprivi Game Reserve. We stopped at a mud house and asked the resident if we could take a picture.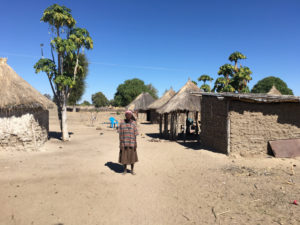 In a moment there were 4 children watching with interest. These kids were friendly and laughed a lot. We gave them something else to snack on.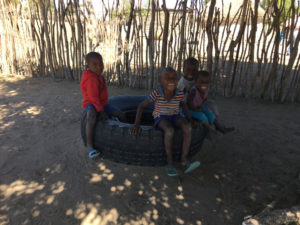 Every now and then you pass through a police checkpoint. They look at the driver's license and the vehicle sticker. About 3 km behind such a checkpoint, near Mukwe, several kids jumped in front of our car on the road, so we had to drive slowly. They wanted something and threatened us with stones. Since we didn't stop, they threw the stones at the car. We have a thick dent with paint damage and again lucky that it was not the window. Since we knew that the police was behind us on the road, we turned around and reported the incident. Two plainclothes officers drove with us to catch the "perpetrators" in the act. But since the guys probably expected it, they didn't show up. The policemen assured us that they would talk to the parents, and we drove on. The throwing of stones happens more often, because here in the camp it also happened to Dutch tourists the day before. Hopefully the insurance will cover it. Our campsite is idyllically located directly on the Kwando River and we watched several hippos splashing around at sunset. For dinner we had potatoes with butternut squash in coconut milk curry.
Silke