We slept in and had breakfast. Then we moved to Thebe River Lodge Campsite to have a barbecue for the third night. In the Shoprite supermarket next door we bought fresh food and prepared a small lunch. Then at 2:30pm we were picked up by Wild Cars and Guides and driven by jeep to the boat dock. Mitch, our captain and guide took us and four older South Africans for a three hour cruise on the Chobe River National Park between Namibia and Botswana. Wonderful! We saw huge crocodiles, iguanas, a bee nest high in a tree, hippos, elephants, buffalo, kingfisher, storks and geese, …. . The highlight was a bank where three hippos were lying in the mud.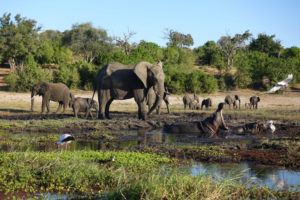 Large and miniature elephants joined in, a stork and a spoonbill fished around, and then ibex and buffalo also joined the picture. The sunset was also beautiful from the water.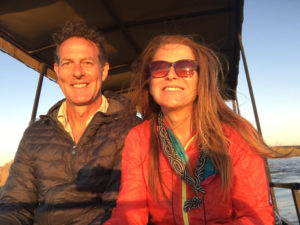 However, you are not alone on the river as many different boats start at the same time. Back at our campsite we made a barbecue and let the Whitsunday end comfortably.
Silke