We asked at the park entrance for free campsites in the national park. Savuti, our favorite, was booked out. In Linyanti, we snagged an overnight stay (100 USD).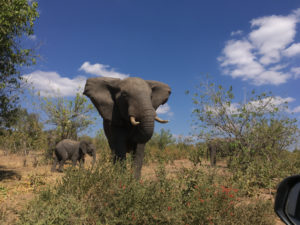 The "roads" are rather deep sand dunes and for the 180 Km we needed 7 hours. On the last 20 Km we got stuck in the deep sand. Reiner left again air pressure from the tires. Two Botswana park employees, who just passed by with their truck (by the way, the only vehicle that met us on the last 100 km!) helped to shovel the wheels free.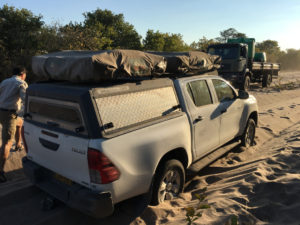 They gave us the tip to take a parallel road in the bush, because there would not be so deep sand. The road would rather get worse. So we first had to go back 7 km and take a sneak path through the bushes to get to said path. Somewhere along the way a thick branch had wedged itself into the rear bumper and bent it a bit. Shortly after sunset we reached our destination, a campsite with no fence and a fabulous view!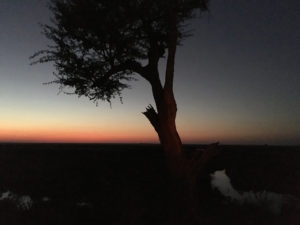 Which, unfortunately, we could enjoy only briefly. We were not hungry anymore.
Silke