In two of the four occupied tents small scorpions came to visit tonight. Fortunately not to us. They did not hurt anyone either. With us rang at 6:00 the alarm clock and we looked again at the great view of the Rummana Campsite (a former Bedouin camp) an. After a quick breakfast, the staff drove us to the park entrance to our car, with which we then drove 20 min further to Dana GuestHouse, the trail entrance. We left the car there and started hiking.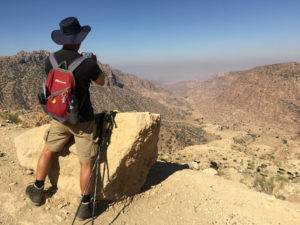 The first part was quite downhill and after about 1.5 km I noticed that I got pain in one toe. I stupidly ran a blister. Although the shoes are actually well broken in and I had the whole year nothing like that! Well, now for a while with plaster. The 14 km hiking trail could be run but otherwise wonderful. Mostly along the currently dried out river bed and through gorges that always offer new beautiful views. Very pretty are the plants that grow in the riverbed, such as pink oleander.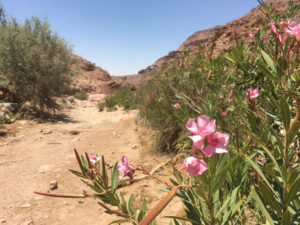 In animals we saw a few lizards and many goats with herding dogs and some donkeys. When we reached our destination, Feynan Ecolodge, at 2:00 pm, the thermometer showed 36 degrees in the shade. We had booked a return transfer for 3:00 pm at Rummana Camp, but it did not arrive until 4:00 pm. The car was boiling hot and the driver spoke no English or German. He was probably not properly informed, because he drove us to the wrong place. For the normally 120 km and 2-3 h distance we needed thus 3.5 h. In addition, he refueled twice on the way, talked on the phone almost the whole time and picked up another passenger from the roadside. We were totally sweaty and quite annoyed when we finally reached Dana Guesthouse at 19:31. Our today's accommodation, the Tower Hotel was fortunately only 500 m away from the parking lot. First we watched the beautiful sunset before checking in. We got a simple double room with bathroom and for dinner at 8:30 pm the host and his wife cooked an extra vegetarian component to the Arabic dinner. We ate together with the other guests on the roof terrace and even got a nice serenade with drum accompaniment. Our blog page is not visible today and Reiner is trying to fix that from here, but has no success so far.
Silke