The Dana Tower Hotel spoiled us with a wonderful view at breakfast. Then we drove further along the road to our today's accommodation Hotel Cleopetra in Wadi Musa. The hotel manager gave us the tip to visit first Little Petra/Siq al-Barid and in the evening the Petra by Night light show. Little Petra ( is about 10 minutes by car from Petra. An archaeological site or a "suburb" of Petra, the Nabataean capital. A temple and buildings carved into the walls of the sandstone gorge. Water channels that filled the cisterns have been cleverly carved into the walls. A dining room (biclinium) is decorated with relatively well-preserved wall paintings. Traders – caravans on the Silk Road could rest here and replenish their supplies. A few souvenir stores are built distributed in the gorge, which is about 350 meters long.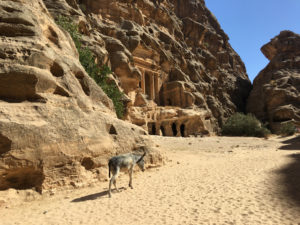 In the afternoon we rested in the hotel room and at just before 20:00 we went to the treasure house of Petra. The Siq, the 1.5 km long canyon to the treasure house and the square in front of the treasure house, was illuminated with over 1500 candles. The candles are in paper bags. A very beautiful atmosphere. In the square in front of the treasure house, carpets are laid out to sit on and there is a cup of tea. A singer, a flute player and a storyteller (English) offer a nice program.
Since the acoustics are very bright, the only thing that disturbs a bit is the babbling of some people (e.g. the police officers on the sidelines, who must have seen the screening several times before, so they were more likely to tell each other jokes). However, the overall experience was nice and pleasantly designed. We didn't need a flashlight for the way back either, as the moon and candles lit the way well. By the way, Indian Jones and the Last Crusade was filmed here.
Silke