Today we explored the former capital of the Nabataeans, Petra. It flourished in the 1st century BC as a trading city for frankincense, myrrh and spices. From the middle of the 7th century AD it was abandoned and fell into oblivion. An earthquake had probably destroyed much. We hiked a total of 16.5 km along the Main and Monastery Trail to the monastery. The last part to the monastery is about 800 steps uphill. From a vantage point behind it we could see all the way to the border with Israel. Donkeys and camel riders want to transport you for free, but a good tip is expected. We preferred to walk. The monastery itself is very impressive and large.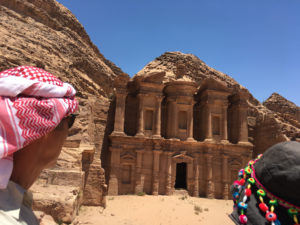 It was built in the 2nd century A.D. and later it was also used as a Christian church. To get there you walk through the Siq and pass by the treasure house and the theater, among others. By day it is a completely different atmosphere. The sandstone walls glow in many different colors, donkeys, camels, horse-drawn carriages and excursionists enliven the streets. There are no motorized vehicles and, except for a few restaurants and toilet blocks, no modern buildings. Souvenir stores are mostly hammered together in a makeshift fashion and line the paths. We had a packed lunch from the Hotel Cleopetra with us and twice we stopped in a Bedouin café for a tea. We really liked the Lion Triclinium, which is a bit away from the hustle and bustle in a small gorge.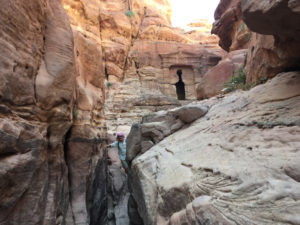 Back at the car we noticed that we had a (almost) flat tire on the right rear. Since the hotel was not far, Reiner drove slowly there. In a workshop near the hotel they repaired then our tire (from the inside with bicycle patches). A screw had gone in and the valve was replaced.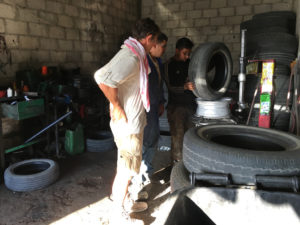 We laid out the 20 JOD for now and hope to get it refunded. Our evening meal consisted of yogurt with fruit and oatmeal.
Silke