For today we had booked a full day snorkeling tour with the "Victory". At 8:15 am we met in the harbor of Flic en Flac. We had a nice group of fellow travelers. Two couples and a family from North Rhine-Westphalia, three Slovakian women, and a Swiss family. In total we were 12 guests and 2 skippers on the sport boat. In a fast ride and with music we went a bit up the coast to a bay where dolphins like to swim in the morning.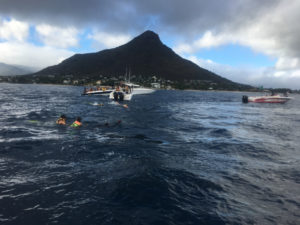 Several pleasure boats circle around trying to get the best view of the 30 or so marine mammals. Reiner, myself and two German women also jumped into the water three times to swim with them. As soon as I was done with my snorkel the flippers mostly swam quite a bit further again. Once I saw some dolphins diving below me. Reiner swam a little closer to them and was able to film them briefly and see them quite well. Overall, however, it was quite restless and also not quite harmless between all the boats, which is why some guests have not gone into the water. At the next snorkeling site , a coral reef, it was calmer and you could look at many fish and corals.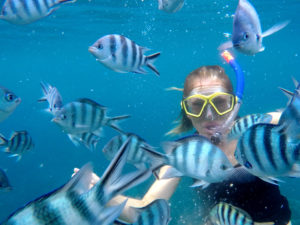 Most curious, and because I had some white bread, were the Indo-Pacific Sergeant fish. After that we went around the Diamond Rock, a rock that has a bit of the shape of a cut diamond, to the coast of the island "Ile aux Benitiers" where we had a barbecue and drinks on a beautiful sandy beach. There was also Mauritian beer Phoenix and "island coffee"/Cola Rum. Well fortified we started our journey home. From the sea we could admire Flic-en-Flac in the rainbow.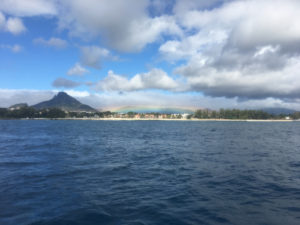 Around 3:00 pm we were back on land. The sun laughed a lot today and we had a fun day.
Silke