Reiner's dive today was about fish recognition. For this there is an extra waterproof booklet. By now he knows most of the fish by name! (And they know him too!) In the afternoon we drove with our car to the capital of the island "Port Louis". There we visited the Blue Penny Museum to see the famous stamps, the red and blue Mauritius from 1847. Due to a misprint "Post Office" instead of "Post Paid" a series of the stamps has become very valuable.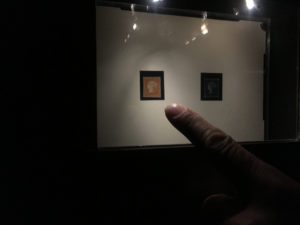 With audio guide you could get a pretty good insight. The real stamps are only lit once an hour.
Afterwards we checked out Central Market and bought broccoli, cauliflower and potatoes for dinner.
Silke