Today Reiner has done a Discover Scuba Diving – diving ground course. This went on for a good 3 hours. He was with his german/Philippine diving instructor Günther (but everyone calls him Jimmy) after the theory lessons first on the beach in shallow water.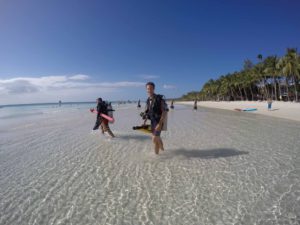 Then we went out by boat and they dived to a depth of 12 m. I decided to follow the diving course from the boat. Was also very nice, because I was allowed to ride along and we had the huge boat with captain all for us. Submerged in reverse from the boat, the two had disappeared for 35 minutes on dive.
Reiner has seen many colorful fish, corals and a great underwater world. He enjoyed it a lot. In the late afternoon we ate fresh mango and pineapple on the beach and watched many sailing catamarans moor there and take excursionists on a trip into the sunset.
In the evening we were in a German restaurant directly at the Beach Essen. For me there was salad and for Reiner Züricher Geschnetzltes with Rösti.
Silke