For breakfast today there was Blueberry Muffin from a café on the street of our hostel.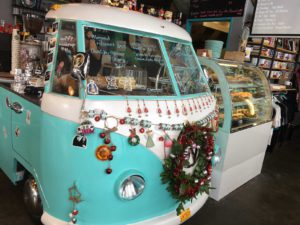 By the way, also a ticket because of too long parking time! 15 NZD because you have to repack every 2 hours in our street from 8:00 a.m. to 6:00 p.m. The officer I met explained the New Zealic Parking Rules to me very kindly – but the ticket stayed on!
Since Reiner unfortunately had severe headaches, I took the ferry to Waiheke Island alone today. Flowers like in the botanical garden grow there on the side of the road.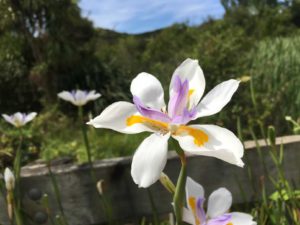 I walked from Matiatja Wharf ferry pier to Blackpool and Oneroa Beach. Beautiful footpath, about 2-3 km. The beach is small, not many people, and there are picnic areas as well as a few shops. At Blackpool I also discovered an Island Pony Club. Reiner picked me up in the evening on the beach promenade by car and we were still shopping in the supermarket "Countdown". Finally, there was a delicious fresh salad.
Silke