Happy New Year 2019 !!!
In beautiful sunshine in Amberley we went swimming in the sea before breakfast. The way to Christchurch led briefly past a shopping center.At the campsite in Christchurch we grilled deliciously. I tinted my hair. Melina brought me my coloration and Janik has already compared my hair color to a lucky cat.In the evening it started to rain, so that we all walked through the streets with hoods. We are by bus to Hagley Park. There were still a bunch of Germans and a Swiss on the bus. The bus driver drove an extra lap first and passed our stop again.After the disembarking we walked about 45 min and then did not come to a bar, because one girl of the other Germans was only 17. So we're right in the park. There was a great stage with live band. A few stalls with fries and sweetstuff sands and soft drinks (no alcohol!). The band played until 0:00 a.m. and announced the countdown. Then there was a nice fireworks display.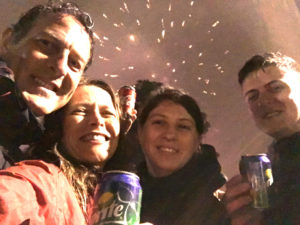 After that, everyone had to leave the park quickly. We walked in the rain to the campsite. All shops and petrol stations on our "home" which were still open did not sell beer or wine.
So we experienced a rather short, wet and sober but funny New Year's Eve in New Zealand.
We wish you all a happy and healthy New Year 2019!
Silke