After waking up at "The Ocean Breeze", we washed laundry and breakfasted cereals.Then we headed south. Large spherical stones lie on the beach of Moeraki/Hampden. The Maoraki – Boulders. They are located directly on the coast and can be easily reached via a small track along the water, at high tide including wet feet. The rocks look like giant footballs and are partially split. There are various explanations for their perfect appearance.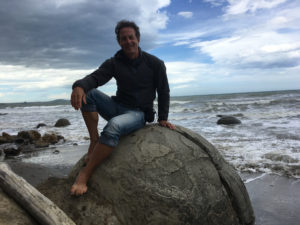 Then we went to Dunedin. A pretty university and port city with Scottish and Maorian roots. We visit Janet and Ed, a very nice couple we met in Ben Tre, Mekong Delta. They have 5 children, but they have all flown out. They took us on a city tour to show us the most interesting places in Dunedin. You have a beautiful house, with a direct view of the harbour bay. We are allowed to sleep here in the guest room today and tomorrow. The niece Jenna and her boyfriend Jeff are also visiting from California.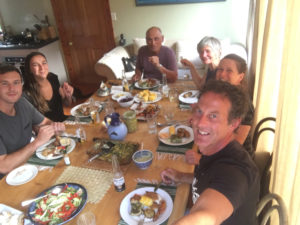 We had a very tasty dinner in pleasant company.
Silke